SoundMind Psychedelic Facilitator Training



A ketamine, psilocybin and MDMA certificate program, aligned with the Oregon Psilocybin Model

Begins September 20, 2022

Lead instructor: Hannah C. McLane, MD, MA, MPH

8 months of daily readings, interactive content, and practicum


Weekly live Zoom classes for 2 hours/week

Video and reading content for you to keep

Weekly assignments and accountability groups

Different guest instructors each week on live call
We host open house Q&A events regularly, where accepted students can ask us questions before committing to enrollment and payment.

Program overview:
SoundMind Institute is a psychedelic facilitator training and research initiative aimed at bringing ethics, equity, and innovation to the psychedelic ecosystem.

This is an 8-month graduate-level training program for clinicians and other professionals that provides a foundational understanding of the literature and practice of psychedelic-assisted psychotherapy, including the use of ketamine, MDMA, and psilocybin in the therapeutic setting. This program is designed for clinicians—especially psychotherapists, physicians, and others, but being a clinician isn't a requirement for acceptance. This course is designed to fulfill requirements for Oregon's psilocybin program as well as prepare you for ketamine-assisted psychotherapy administration.
2 parts:
This program consists of two parts:
Part 1: Foundations of Psychedelic Therapy
Part 2: Psychedelic Therapy Skills and Practices
Classes are held on Tuesdays 5:30-7:30 PM EST, with the option of taking the course asynchronously starting in September if this time does not work for you.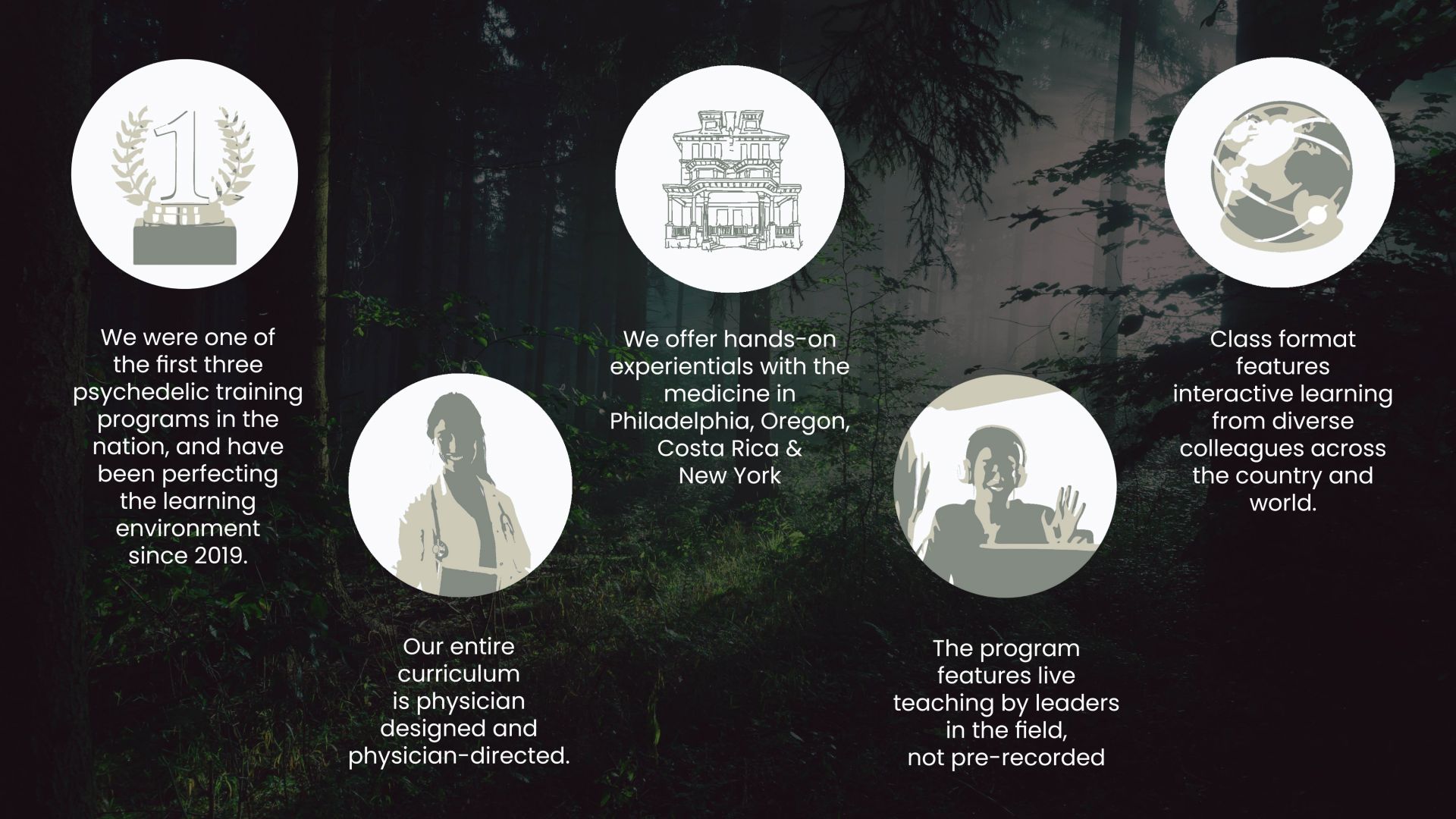 Course Details
SoundMind Psychedelic Facilitator Training Course
Structure & Details
Live Component
This is a training with 2-hour weekly online classes and 1-hour small group meetings.
Mentorship
Individual mentorship by our leadership team.
Homework
Reading and homework requirements take approximately 3-5 hours a week.
Start Date
Next live cohort begins September 20, 2022.
Bonus Programs
This program includes our popular Foundations of Psychedelic Therapies and our new Skills and Practices Training for Psychedelic Therapists.
Flexibility
If you are unable to attend live classes from 5:30-7:30PM EST, we are offering asynchronous learning option which also begins in Sept 2022. Please apply through our normal application process for this option.
Meet the instructor
Hannah C. McLane, MD, MA, MPH
Dr. Hannah McLane is a physician, psychoanalyst, and entrepreneur. She is the Founder of SoundMind, a Philadelphia and Oregon-based psychedelic facilitator training and research initiative aimed at bringing ethics, equity, and innovation to the psychedelic ecosystem. Dr. McLane identifies as queer, white, able-bodied, and neurodiverse. She grew up in rural New Hampshire and spent several years in South America and East Asia.

Dr. McLane conducts research on cognitive diversity, psychedelic science, ethics, PTSD, and emerging alternative therapies for mental health issues. She is the clinical director of the SoundMind Center, the first psychedelic therapy center in the Philadelphia region, and training director for retreat offerings in Philadelphia, Oregon, and Costa Rica.

She attended McGill University and holds graduate degrees from Temple University (MA, Communication Sciences, Spanish Language), Brown University (MD, Doctor of Medicine, Contemplative Studies Concentration), and Harvard School of Public Health (MPH, Global health and Bioethics). She attended residencies in neurology and Occupational and Environmental medicine (University of Pennsylvania) and completed a fellowship in Patient Safety at the VA Hospital in Philadelphia. She also completed a 5-year psychoanalytic training program and considers herself a relational psychoanalyst.
Meet the guest teachers
Live Zoom Classes with Guest Experts
Live classes are recorded for your access during and after the program.
Meet Some of Our Former Students!
Who is this training for?
Medical students and Residents

Students in medical or therapy training

Professionals who desire facilitation training
Some of the topics we cover in
this course:
Breathwork for Psychedelic Preparation
Psilocybin-Assisted Psychotherapy
MDMA Assisted Psychotherapy and MAPS Training: Lay of the Land
Ketamine-Assisted Psychotherapy
Psychedelic Therapy and Inclusion: BIPOC and other Marginalized Communities
Meditation and Psychedelics
Psychedelics, Clinical Ethics, and Boundary Violations
Ceremonial Use of Psychedelics and Sacred Plants
Preparing Your Mind and Ceremonial Cleansing Rituals
This is a 200 course-hour online learning program, ideal for busy professionals, presented in an online learning format with live teaching and group learning as priorities.


We believe in the importance of hands-on training with the medicine you're working with, and we pride ourselves in offering our students rigorous training in this regard. For hands-on experiential training, we offer Specialty Track Experiential Programs. Students may opt to take these during or after their 8-month training. Specialty Track Experientials Include: Psilocybin Track (fulfills Oregon Psilocybin Practicum Training) , Ketamine Track, Plant Medicine Track, and MDMA track. The price of these is not included in the cost of the 8-month Facilitator Training Program. Each student is encouraged to choose one or more tracks.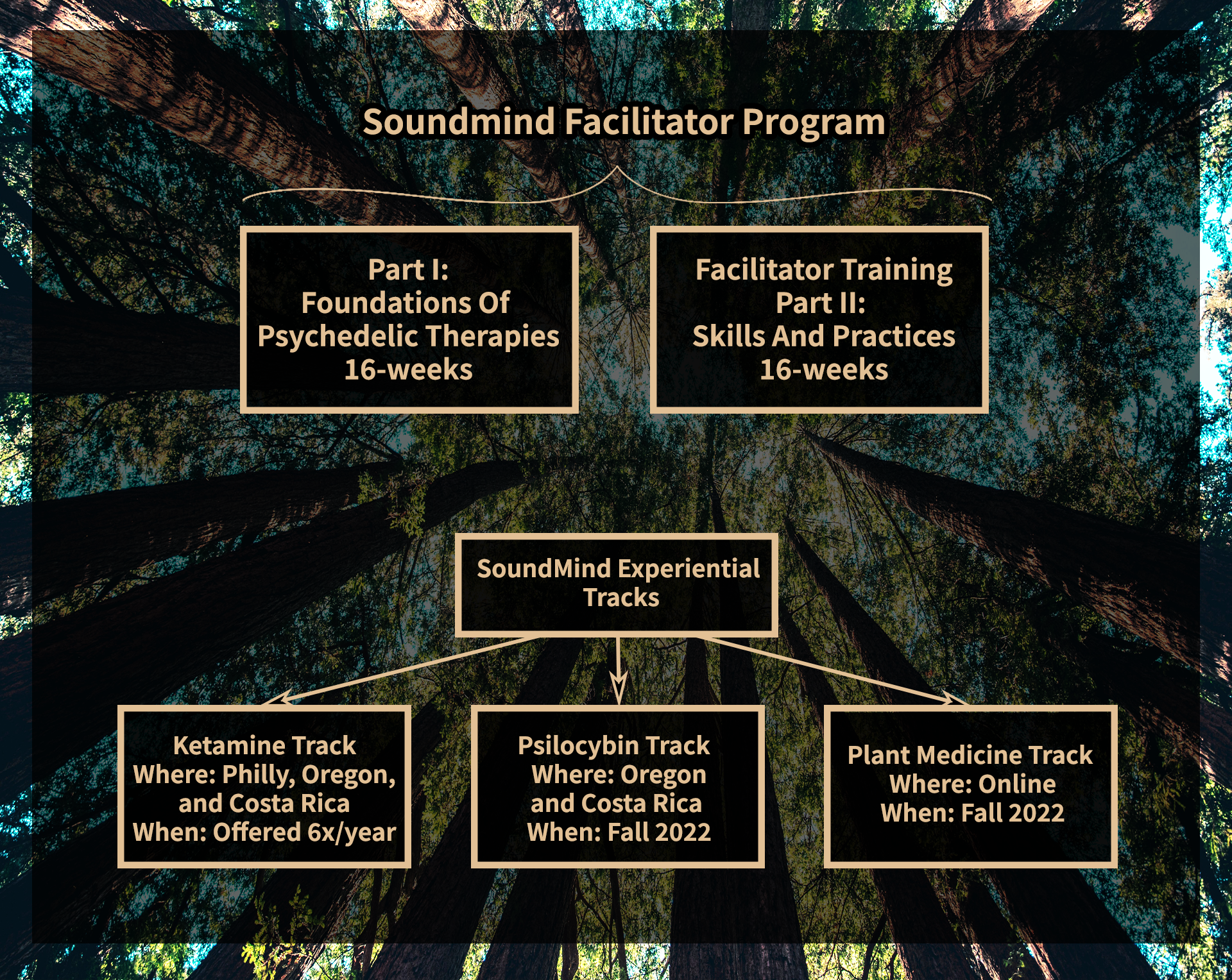 Frequently asked questions
How long is the class and how much is pre-recorded content?
The class meets for 2 hours once a week for 8 months. These are live Zoom sessions with guest lecturers present, which allows you to ask questions directly. This is a special part of our curriculum and unique in the psychedelic education space.
Are there small group meetings too?
Yes, we have accountability groups each week that are required, and are hour-long check-ins with other members of your class, held on Fridays and Mondays and various times throughout the day to work with your schedule.
What is the time commitment per week outside of class (readings, homework, etc.)?
Readings and other activities typically take 3-4 hours outside of class each week. If you miss a week or get behind on your readings, we give you 3 weeks after the end of your last class to do make-up reading and assignments. To earn the certificate you need to have completed at least 10 of the 12 homework assignments and be present for 10/12 classes per part (if you have to miss more than 2 classes, a makeup plan can be arranged). All classes are recorded and you have access to those videos after each class and also beyond completion of the course.
What if I miss one or two classes?
Not a problem! If you are taking the live version of the class, classes will be recorded for you to catch up on what was covered that week. If you think you'll miss more than 2 classes we recommend our asynchronous version.
I'm not a clinician but I'm interested in the program. Can I still apply?
Yes! We open the application to everyone who is interested in psychedelic-assisted psychotherapy facilitation. About 30% of the students in previous cohorts were not clinicians yet, but had interest in pursuing that path or learning what ways they could get involved even without graduate school. If you are not a clinician, please keep in mind this course is designed for people who have some background in psychotherapy or clinical work. If you are still interested and have none of this background, please apply and if accepted we have some preparation homework to get you up-to-speed. And we do give clinicians the option to request only other clinicians in their accountability group as well.

We have always believed that an equitable and thriving psychedelic ecosystem is not one that limits its training programs to those with pre-existing medical or mental health licensure. We have always accepted a blend of licensed and unlicensed trainees and focus instead on students' capacity for ethical practice and commitment to self-reflection and growth throughout the training journey. We prioritize accepting students with experience in non-ordinary states as well as daily meditation practices. We also look for curiosity around scientific literature and folks with additional skills to add to their facilitation offerings (such as bodywork, somatic training, herbalism, or other skills).
Can you tell me how you select your instructors?
We have an extensive roster of teachers who have taught in our program since its inception in 2019, who hold expertise across fields: psychedelic medicine, psychology, pharmacology, bioethics, and traditional medicine practice. We make a special effort to bring in providers who hold diverse expertise in therapeutic approaches, including somatic approaches, meditation, breathwork, hypnotherapy, internal family systems, and psychoanalytic methods. All our teachers must also be grounded in an anti-racist, anti-oppression framework.
Can I legally provide psychedelic therapy after this program? What does the certificate allow me to do?
The only psychedelic that is currently legal to use therapeutically in the United States is ketamine. In order to provide ketamine-assisted therapy, a facilitator must be affiliated with a physician who can prescribe ketamine. In the state of Oregon, psilocybin has also been legalized for therapeutic use, and the state is hard at work to formalize how and when this treatment will become available—likely Spring 2023 at the earliest.

MDMA is slated to be available legally in the United States within 2-3 years with a prescription. Currently, MDMA-assisted psychotherapy for PTSD is only legally provided through research studies and MAPS' expanded access program. To provide MDMA-assisted psychotherapy in this context, additional training from MAPS is required.

Our program teaches students how psychedelics, especially ketamine, psilocybin, and MDMA, are used in conjunction with psychotherapy. We also teach students how ceremony, ritual, and traditional medicine practice have contributed to our understanding of psychedelic medicine and provide hands-on learning on ways to integrate these practices into psychedelic-assisted therapy modalities. Our program has also been approved by the Oregon Health Authority (OHA) to provide state-sanctioned training to become a psilocybin facilitator in Oregon—this means we can provide the necessary training for individuals in Oregon to site for a state exam to become a licensed psilocybin facilitator. All OHA-approved programs will also require approval from Oregon's Higher Education Coordinating Commission, and we are working alongside our fellow programs to finalize this process.

Outside of Oregon's psilocybin program, there is no standardization or credentialing board for psychedelic-assisted therapy at this time, which means no individual course or program can provide "accreditation" to practice with psychedelics. What this course will provide is the groundwork to build a career in psychedelics, including the ongoing community and support network of like-minded practitioners to help graduates succeed in this field as aboveground psychedelics emerge.

Please note that this course provides the foundations of training in psychedelic facilitation. Continued hands-on learning and ongoing clinical supervision is strongly recommended before becoming an independently practicing psychedelic facilitator. As with many therapeutic modalities, it is a lifelong learning and growth process!
Do I have to go to graduate school to become a psychedelic facilitator?
You don't actually! This is why we have opened our classes to non-therapists, but we do expect a certain amount of background knowledge about psychotherapy. Again, if you are not already a therapist, we can send you pre-readings to get you up to speed about psychotherapy basics. If you do decide to go to graduate school, or are already a physician or clinician, you will likely have more options of roles within the psychedelic ecosystem, but there will be plenty of other possible roles as well. Part of the purpose of this course is to get us all connected so we can form teams including all the different roles of people — prescribers, therapists, breathwork practitioners, music therapists, overnight sitters, designers to create the physical setting, mycologists and chemists, pharmacists, nurses, bodyworkers, and more. These classes are dynamic and the community-building is amazing! You will not be disappointed.
The cost to take this program is $9,000, with an option to pay all at once or in 4 or 10 equal monthly installments. We also offer 10% discounts for early bird registration and a range of scholarships for providers with financial need who are BIPOC, neurodiverse, and/or LGBTQIA. The in-person experiential is $4000-$6000, depending on which options is chosen.
What makes SoundMind unique?
We pride ourselves in creating courses and trainings that have equity, social justice, and ethics as a centerpiece of all conversations. These therapies need to be made available to the most marginalized among us, and we need to start the conversation and any trainings there. We operate a Psychedelic Center in urban Philadelphia creating inclusive and innovative psychedelic protocols for populations in need, and your participation in our courses and trainings directly benefits our nonprofit. We also run programming in Oregon, Costa Rica, and Hudson Valley, NY. Many other trainings you find online are for-profit and not community driven - having investors mean they have to prioritize profit with huge classes, fewer access to live speakers, and less individualized mentorship. Profit is not our motive, and we are excited to include you in the psychedelic revolution that starts with our communities and inclusivity. Welcome aboard!
Some of our instructors include:
Please note that for each cohort the instructors may change
Belinda Eriacho

Belinda is a healer and leader from the Dine' (Navajo) and Zuni lineage. She is certified in Integrated Energy Therapy and has advanced degrees in Health Sciences, Public & Occupational Health, and Technology. Through her personal practice and her leadership as a public speaker, Belinda supports the healing of Native Peoples and is helping to guide the Psychedelic Renaissance towards a more holistic perspective.
Joseph McCowan, PsyD

Joseph McCowan, PsyD is a licensed clinical psychologist and psychotherapist, currently working in Los Angeles as a co-therapist in the MAPS sponsored phase 3 clinical trials of MDMA-assisted therapy for PTSD. He is an alumni of MAPS August 2019 MDMA Therapy Training for Communities of Color. Joseph is deeply passionate about furthering education and awareness of the healing benefits of psychedelics for communities of color and in working to improve mental health outcomes for historically underserved communities.
Rick Doblin, PhD

Rick is the founder and executive director of the Multidisciplinary Association for Psychedelic Studies (MAPS). He received his doctorate in Public Policy from Harvard's Kennedy School of Government, where he wrote his dissertation on the regulation of the medical uses of psychedelics and marijuana and his Master's thesis on a survey of oncologists about smoked marijuana vs. the oral THC pill in nausea control for cancer patients. His undergraduate thesis at New College of Florida was a 25-year follow-up to the classic Good Friday Experiment, which evaluated the potential of psychedelic drugs to catalyze religious experiences. He also conducted a thirty-four year follow-up study to Timothy Leary's Concord Prison Experiment. Rick studied with Dr. Stanislav Grof and was among the first to be certified as a Holotropic Breathwork practitioner. His professional goal is to help develop legal contexts for the beneficial uses of psychedelics and marijuana, primarily as prescription medicines but also for personal growth for otherwise healthy people, and eventually to become a legally licensed psychedelic therapist. He founded MAPS in 1986, and currently resides in Boston with his wife, dog, and empty rooms from three children, one of whom is in college and two have graduated.
Rodney Garcia, MD

Rodney Garcia is a Curandero and ceremonial practitioner of the Pachakuti Mesa Tradition (PMT). He is also an apprentice of the Shipibo Ayahuasca and Master Plant Medicine tradition. Rodney holds a Medical Doctorate specialized in Anesthesiology and Critical Care Medicine. He is a licensed and Board-Certified Anesthesiologist in Albuquerque, New Mexico. Rodney completed the MAPS MDMA Therapy Training in 2021. His passions for medicine, health, and wellness extend beyond Anesthesiology and the operating room and are expressed through various modalities including Lifestyle and Integrative Medicine, Herbalism, as well as Body, Mind, and Spiritual practices.


Spiritual, medical, and food sovereignty are of vital importance and, in alignment with a Wholistic approach to integral health, Rodney established and co-owns a regenerative, permaculture food and medicine farm and homestead in central New Mexico. At present, he is in the process of establishing a Wholistic Health Practice in Albuquerque, New Mexico. He is a Founding Board Member of The Church of The Eagle and The Condor.
Harvey Schwartz, PhD
Harvey is a licensed psychologist who specializes in treating complex PTSD, dissociative disorders, as well as patients with spiritual and therapy-related trauma. He has undergone advanced Ketamine-Assisted Therapy training through the Ketamine Training Center and the MAPS MDMA-Assisted Therapy Training Program and is currently a Sub-Investigator and Co-therapist, a supervisor, and a trainer on the MAPS MDMA-Assisted Therapy Clinical Trials. In his clinical work and consultation, he synthesizes relational psychodynamic, archetypal, existential, and mindfulness perspectives. He has worked on advancing the theory and practice of integration in psychedelic therapies. Harvey is the training director and a lead trainer in the Polaris Insight Training Program.
Tom Eckert, MS
Tom is a seasoned therapist with experience in program development. He was the architect of Oregon's Measure 109 and, with his late wife Sheri, helped guide the campaign to establish Oregon's statewide Psilocybin Services Program.


Tom founded the Oregon Psilocybin Society in 2015 and recently established the Sheri Eckert Foundation which aims to support equitable access to psilocybin training and services across the state of Oregon through scholarships and other supportive programs.
Daniel Wikler, PhD

Professor Dan Wikler is the Director of the Harvard Program in Ethics and Health (PEH). His current research interests are ethical issues in population and international health, including the allocation of health resources. Prior to his time at Harvard, he served as the first Staff Ethicist for the World Health Organization. He also served on the President's Commission for the Study of Ethical Problems in Medicine in Washington, D.C., as Staff Philosopher for Biomedical and Behavioral Research. He has a particular interest in using simplified dilemmas to highlight the ethical issues involved in global health decision-making.
Pierre Bouchard, MA, LPC
Pierre Bouchard is a Licensed Professional Counselor with a private ketamine practice in Boulder, CO. He specializes in blending somatics, embodiment, attachment theory, and trauma therapy with ketamine-assisted psychotherapy. A graduate of Naropa University (in Contemplative Psychotherapy), he has trained in several somatic psychotherapy modalities, most recently the Hakomi Method under Melissa Grace, and currently, in Ido Portal's movement system. He supervises therapists around ketamine work. He has maintained a meditation practice for 20 years, and in his spare time, works as a vinyl DJ.
Emma Knighton, MA, LMHC, RYT
Emma Knighton, MA, LMHC, is a white, queer, able-bodied femme. She is a somatic trauma therapist, psychedelic integration therapist, embodied organizer, and conscious leader. In their clinical work, Mx. Knighton works at the intersection of complex PTSD from childhood abuse, queer identity development, and consciousness exploration. Her clinical and leadership approach is grounded in queer, consent, feminist, and anti-oppression/pro-liberation theories. Mx. Knighton teaches courses on integrating trauma-informed consent practices into psychedelic-assisted therapy and strives to be in service to the psychedelic space with integrated mind, body, spirit, and community. Mx. Knighton holds a master's in counseling psychology from Bastyr University, a Certificate in Psychedelic Assisted Therapy and Research from CIIS, and a master's level Certificate in Holistic Health from St. Catherine University. A lifelong learner, she is in sacred relationship with their ancestors, tree elders, plant teachers, and the collective consciousness.
Cristie Strongman, MA, EdM, MHC-LP
Cristie works with individuals, couples, and groups utilizing a humanistic approach to focus on the whole individual and stress concepts such as free will, self-efficacy, and self-actualization. She advocates for improving the understanding of neurodiversity in mental health, specifically for BIPOC populations in the mental health care system. Rather than concentrating on dysfunction, Cristie strives to help people see their life's ongoing journey as an endless source of wisdom and draw on internal strengths with innovative methods. Her specialty lies in helping clients with ADHD, learning disabilities, anxiety, depression, PTSD, relational issues, low-self-esteem, and loss of purpose.


Cristie completed a dual Master's degree in Counseling Psychology at Columbia University as well as a Master's in Latin American and Caribbean Studies, where her studies focused primarily on ritual and urban shamanism. She is a trainee of the Multidisciplinary Association for Psychedelic Studies (MAPS) in MDMA-assisted therapy. Cristie is currently working with MAPS on an FDA-approved clinical trial study, as an investigator and co-therapist, examining whether MDMA-assisted therapy can help heal the psychological and emotional damage caused by sexual assault, war, violent crime, and other traumas. She is also a trainer to other professionals in psychedelic integration and psychedelic assisted-therapy. She is trained in cultural competency to work specifically with diverse minority populations, and is a fierce ally to LGBTQ+ folks. Cristie is bilingual and can also conduct sessions in Spanish.
Chris Stauffer, MD
Dr. Stauffer is Assistant Professor of Psychiatry at the Oregon Health & Science University (OHSU), Physician-Scientist with the VA Portland Health Care System, and dual board-certified in Psychiatry and Addiction Medicine. Dr. Stauffer is an OHSU medical school alum, completed Adult Psychiatry Residency at the University of California, San Francisco (UCSF), and was an Advanced Neuroscience Research Fellow at the San Francisco VA prior to receiving a Veterans Affairs Clinical Science Career Development Award.


Dr. Stauffer serves as Supervisor for MAPS' MDMA Therapy Training Program, mentor for the Center for Psychedelic Therapies and Research certificate program at the California Institute of Integral Studies, core faculty for the Integrative Psychiatry Institute's Psychedelic-Assisted Therapy Training, course contributor for Psychedelic.Support's "Foundations in MDMA and Psilocybin Safety, Therapeutic Applications & Research", member of the Oregon Psilocybin Advisory Board's research subcommittee, and is part of the training team with Polaris Insight Center.
Michael Mithoefer, MD

Michael Mithoefer is a psychiatrist living in Asheville, NC, with a research office in Charleston, SC. In 2000, he began collaborating with MAPS on the first U.S. Phase 2 clinical trial of MDMA-assisted psychotherapy. He and his wife Annie have since conducted two of the six MAPS-sponsored Phase 2 clinical trials testing MDMA-assisted psychotherapy for PTSD, as well a study providing MDMA-assisted sessions for therapists who have completed the MAPS-sponsored MDMA Therapy Training Program, and a pilot study treating couples with MDMA-assisted psychotherapy combined with Cognitive-Behavioral Conjoint Therapy. He is now Senior Medical Director for Medical Affairs, Training and Supervision at MAPS Public Benefit Corporation (MAPS PBC). He is a Grof-certified Holotropic Breathwork Facilitator, is trained in EMDR and Internal Family Systems Therapy, and has nearly 30 years of experience treating trauma patients. Before going into psychiatry in 1991, he practiced emergency medicine for ten years, served as medical director of the Charleston County and Georgetown County Emergency Departments, and has held clinical faculty positions at the Medical University of South Carolina. He has been board-certified in Psychiatry, Emergency Medicine, and Internal Medicine.
Claudia Cuentas, LMFT
Claudia Cuentas is a Peruvian immigrant, a bilingual and bicultural artist, a license marriage and family therapist, a researcher, and an educator, specializing in the intersectionality of art, healing trauma, trauma recovery, cultural identity, indigenous knowledge and decolonization of healing. She has an Master's in Counseling Psychology and is trained in Drama Therapy, Expressive Arts Therapy, Somatic Experiencing, and Trauma-Informed Care. She also has extensive studies in Indigenous healing, from her native Aymara and Quechua lineages of South America.

Claudia started her journey as an educator and advocate of art, as a tool for healing and liberation. In becoming a therapist, after her studies at the California Institute of Integral Studies, Claudia focused on serving immigrant communities, families, and children. She has worked with undocumented families, refugees, homeless population, and women survivors of violence, especially dealing with PTSD. Upon arriving to Portland, Oregon, Claudia joined the team at Conexiones, a Multicultural Center for Trauma Recovery. Claudia has completed parts A and B of the Multidisciplinary Association for Psychedelic Studies (MAPS) MDMA Therapy Training Program. She continues to participate in ongoing training and education on the intersectionality of generational trauma, plant medicine science, eco-informed therapy, nervous system healing, and indigenous wisdom.
Dr. Adele Lafrance, PhD
Dr. Adele Lafrance is a clinical psychologist, research scientist, author and co-developer of emotion-focused treatment modalities, including Emotion-Focused Family Therapy. A frequent keynote speaker at professional conferences, Adele has published extensively in the field of emotion and health, including a clinical manual on EFFT published by the American Psychological Association. She is passionate about helping parents to support their kids in a way that is informed by the latest developments in neuroscience. The knowledge and tips in her book,
What to Say to Kids When Nothing Seems to Work
is an effort to do just that. With colleagues, she also makes a wealth of caregiving resources available at no cost at Mental Health Foundations.

Adele is also leader in the research and practice of psychedelic medicine, with a focus on ayahuasca, MDMA, psilocybin, and ketamine. Currently, she is the clinical investigator and strategy lead for the MAPS-sponsored MDMA-assisted psychotherapy study for eating disorders and a collaborator/clinical support on the Imperial College study for psilocybin and anorexia nervosa. She is a founding member of the Love Project. Adele has a particular interest in mechanisms and models of healing, including emotion processing, spirituality, and family-based psychedelic psychotherapy. She is a frequent contributor in the media relating to emotion, health, and the science of psychedelics.
Courtney Hutchison, LSW, MPH
Courtney is a clinical social worker and psychotherapist working with adults and adolescents in the Philadelphia area. She holds a Master's degree in Social Service from Bryn Mawr College, a Master's degree in Public Health from UC Berkeley, and a Bachelor's degree in International Relations from Brown University. She completed her clinical training at University of Pennsylvania's Counseling and Psychological Services. She specializes in the treatment and research of trauma-related disorders and relationship violence. Earlier in her career, she was a medical journalist and a racial equity policy advocate. A deep appreciation of the systemic forces that shape opportunities for health continue to drive her clinical and research endeavors today. Courtney has been with SoundMind since 2019 and has worked across the organization's key areas of work—clinical care, facilitator training, and research.
Brian Pilecki, PhD
Dr. Brian Pilecki is a clinical psychologist at Portland Psychotherapy that specializes in the treatment of anxiety disorders (OCD, generalized anxiety, social anxiety, panic disorder), trauma and PTSD, and matters related to the use of psychedelics. He completed a post-doctoral fellowship at The Warren Alpert Medical School of Brown University and practices from an orientation based in Acceptance and Commitment Therapy (ACT). Brian also has extensive experience in the areas of mindfulness and meditation, and incorporates them into his therapy with clients. He is an active researcher and has published on topics such as anxiety disorders, mindfulness, and the relationship between theory and practice in psychotherapy. At Portland Psychotherapy, Brian is also involved in research in the use of psychedelics for the treatment of mental health problems.
Oriana Filiaci, MA


Communications Coordinator and Cultural Specialist
Oriana Filiaci is a psychedelic facilitator and student of integrative medicine. With roots in Southeast Asia, the Mediterranean, and the continental U.S., she came to Hawai'i for graduate school and worked for over a decade as a performing artist and ethnomusicologist. Oriana's publications examine mystical practice, musicianship, dance, and gender in Southeast Asian indigenous traditions. She expanded her career to pursue integrative medicine by taking courses in allopathic medicine, studying traditional Hawaiian herbalism, and completing training in psychedelic-assisted psychotherapy.
Oriana recognizes deep connections between medicine, mysticism, and music, as well as fundamental intersections between science and spirituality. She finds value in the liminal spaces between rational inquiry and native wisdom. Oriana is grateful for the guidance she receives from her teachers: elders, ancestors, plants, and the ocean.
Maya Fern


Psychedelic Facilitator and Small Group Leader
Maya Fern is a queer, trans woman and board-certified hypnotherapist living in Eugene, Oregon. Throughout her life, psychedelics have played a profound role in deepening her understanding of her own identity, inspiring her to empower others in discovering how greatly the subconscious mind shapes our inner and outer worlds. She has a passion for understanding and working with marginalized communities in the psychedelic space and is dedicated to supporting their unique journey in a purposeful, intentional way. Maya is devoted to cultivating a safe and nurturing atmosphere for exploring non-ordinary states of consciousness while fostering acceptance, awareness, and compassion for those seeking to tap into their innate wisdom and connect with their most authentic selves.
Ryan Rodger


Psychedelic Facilitator and Small Group Leader
Ryan Rodger is an MSW student, facilitator at SoundMind, and coordinator of our experiential retreat opportunities with ketamine-assisted psychotherapy. He helps to create group therapy opportunities with KAP both in our Philadelphia and Hudson Valley locations. Ryan's background includes the study of ceremonial music and devotional poetry. Before focusing on therapeutic psychedelics, Ryan spent a number of years in sustainable agriculture and wilderness guiding; his ultimate goal is to work at the intersection of psychedelics and ecological practice. In his spare time, he can be found playing with his two young kids, training martial arts, and unashamedly banging on the hang drum.
Each class meets weekly on Zoom as a group. Each class you are expected to read 5-6 articles and be ready to discuss them, and there will be short writing assignments as well for reflection.

This program is experiential in nature, and we will be offering various opportunities to experience breathwork and non-ordinary meditative states during this program — via guided sessions during the Zoom meetings — and ask participants to reflect on these experiences.

Every week we will also welcome a guest lecturer/teacher in addition to Dr. McLane, who can add to the discussion. These are people with specific areas of experience within psychedelic therapy as well as other subject areas. This can help you grow your psychedelic therapy network, and understand various players and experts in the field.

You will receive a certificate of completion from SoundMind at the end of this program.

If you are interested but not yet ready to apply, please sign up for our newsletter. Thank you!
PROGRAM TUITION:
The cost to take this program is $9,000, with an option to pay all at once or in 4 or 10 equal monthly installments. If the deposit is made before June 15th, you will receive a 10% earlybird discount. Tuition is non-refundable after the first class has occurred unless deemed extenuating circumstances at the discretion of the program leaders.

After successful completion of our 8-month facilitator program, you may choose one of our clinical tracks for further specialization and education: psilocybin, MDMA, ketamine, or plant medicine. All of these include a hands-on experiential. This is not included in the price of the program. We will be posting more about this soon.
Hope you can join us and join our growing and dynamic community!
Hear from our Past Participants!
Jillan Sackett, MD, MS

This class was an important comprehensive introduction to the necessity of psychedelics in mental health. It provided groundwork for the many different psychedelic compounds and how they can be utilized to help a person heal in a safe, therapeutic setting. Dr. McLane provided ample resources ranging from strictly academic to easy fun reads that helped me get a fuller understanding of the effect of these medications. The instructors are each experts in their fields, who managed to be open to all questions and dialogue, while still maintaining enough framework for learning. The classes were simultaneously incredibly informative and fun/relaxed. My only issue with this class is that it ended. I would have loved to continue my learning and interactions with this amazing community of people. I am not sure how Dr. McLane managed to put this together, but I highly recommend it to anyone interested in this field, which, as mental health workers, we all should be. I still have much to learn about psychedelics before I feel capable of using them in my practice, and I look towards Dr. McLane to have another learning series for this very reason.
Deborahlise Mota, LAc, PhD(c)
HERBALIST, BOTANIST, AYURVEDIC PRACTITIONER

SoundMind has been a phenomenal fit for me. As an herbalist, botanist, Ayurvedic practitioner, and an immigrant from South America, I have been both an advocate and protector of ceremonial plant medicine. Dr. Hannah created a safe and supportive space for those who practice on the fringe of conventional medicine, while weaving in her passion for ethics, social justice, and regard for Indigenous and ancestral medicine. The course curriculum and digital membership site are thoughtfully organized, packed with extensive resources and a fantastic lineup of guest teachers and facilitators. Without any doubt, I would highly recommend the SoundMind certification course to Western- or Eastern-trained practitioners, healers, and mental health advocates who want to work with these sacred and extraordinary medicines.
David J. Stern, PsyD

This was a great organized presentation of information on various aspects of the blossoming psychedelic world. From cutting-edge research to clinical applications to conversations with experts in many areas of psychedelic research and practice, this was a rich opportunity for learning. Dr. McLane helped create a safe learning environment with plenty of opportunity for small group exploring and sharing. It provided me with an opportunity to see what role I might want to play in this psychedelic renaissance, and the role psychedelics can play for my clients and for our wounded and beautiful world.



Emily Hollerbach

I'm not a therapist, but ever since I learned about psychedelic therapy, I've just felt incredibly drawn to it. I signed up for this class, and a few others from different organizations, to learn as much as I could as quickly as possible. I enjoyed this class so much! This class was definitely the most professional, extensively researched, and backed by legitimate research studies out of all the classes that I took. Every week, we would have interesting discussions about all kinds of topics regarding psychedelic therapy. We got to hear from numerous different experts in the field and learned so much from hearing about their professional experience. I really looked forward to attending this class every week and I'm sad it's over. Can't wait to sign up for the next one!!!


Favianna Rodriguez, PhD
ARTIST. ACTIVIST. CULTURAL ORGANIZER

T
aking
the course with SoundMind was a tremendously powerful and transformative experience for me as an artist activist who is working to shift the culture around psychedelics. I was thrilled that the curriculum included conversations on racial justice and access to plant medicines. The diversity of attendees in the class was also a big plus for me, I am not a licensed therapist; I am an artist working towards social change and I was happy to be welcomed as such to the class. My goal is to promote more inclusive narratives about psychedelics, and SoundMind helped me get closer to that goal. I highly recommend this class for people who are committed to healing communities that have been most impacted by oppression, white supremacy, and racial violence. I believe we urgently need more courses like this in order to accelerate diversity, equity and inclusion in the space of psychedelics.
Madelaine Wolf Bukiet

Dr. McLane's training course was a remarkable experience for me as a new therapist. Hannah introduced us to experts from all over the field and gave us the opportunity to engage with them about the most exciting and worrying aspects of the psychedelic therapy movement.

Hannah's teaching style is especially sensitive to non-neurotypical folks — there were always a variety of ways to learn and engage with the material. In addition to the material itself, which was always both cutting edge and fascinating, Hannah also introduced us to meditative states which would be extremely helpful to us as psychedelic practitioners.


I see Hannah as a community builder! The future of psychedelic medicine is going to require a lot of us to work together. In addition to the knowledge and information presented in this course, Hannah's Introduction to Psychedelic Therapies Course also helps encourage and expand the group of humans who are dedicated to helping people heal with psychedelic medicine.
Interested in our 8-week Plant Medicine Experiential?
Created with